Cardboard is easy to cut – no expensive equipment or power tools required! Today we will share many different ways to cut cardboard SAFELY for all of our your cardboard building projects! (Yes, I am a mom – safety is so important to me!)
When you think of cutting cardboard, no doubt your mind goes to things like box cutters and precision cutters like the X-Acto brand. DO NOT use these!
I cannot in good faith recommend these tools unless you already have a lot of experience working with them as they can be quite dangerous. Blades can slip out, the cutter can shift – your fingers are always in danger, even if using the best safety practices recommended by the manufacturers. If you are working with kids, these are absolutely out of the question.
Fortunately, there are some great cutters which minimize safety concerns (although you should always use care and practice safe cutting habits!) These tools below are perfect for all of your cardboard cutting needs!
Best Tools For Cutting Cardboard Safely
Below we've listed our three favorite tools for cutting cardboard safely. I use these tools nearly everyday for projects I create with cardboard!
The Canary Corrugated Cardboard Scissors
The Canary Corrugated Cardboard Scissors are specifically shaped for cutting cardboard. They have a stainless steel angled edge and the unique handle design which help with stability and precision when you are cutting large pieces.
While yes, they are more expensive than your average pair of scissors, they are a game-changer! You will easily be able to cut large pieces for almost any project and cut shapes out like circles, triangles, squares, hearts and more.
These scissors are available at Amazon.com and are a must-have for any makerspace or cardboard enthusiast!
The Canary Corrugated Cardboard Cutter
The Canary Corrugated Cardboard Cutter is another cutter made by the same brand as the scissors listed above and we absolutely love because it has a blunt serrated edge which definitely helps minimize common problems with other cutting tools.
It reminds me a lot of a pumpkin carving tool – it isn't going to cut you very easily accidentally but it can cut through the cardboard quite efficiently!
Another thing I love about this tool is that it has a non-stick blade – which means things like packing tape aren't going to cause issues when you are dismantling boxes.
This is another tool readily available at Amazon.com. I recommend buying the multi-pack, especially if you have several makers.
I am such a huge fan of these I bought three of them for our house so that my husband could have his own for his work, one dedicated to our recycling area for breaking down boxes and one for my work studio!
---
Sizzix Die Cutting Machine
I love my Sizzix die cutting machine – you can cut out all kinds of great shapes! You can even actually order your own custom dies if you know you need to cut out a lot of shapes for something you make regularly.
While the Sizzix definitely cuts best through thin, single layer cardboard such as cereal boxes, it can also go through corrugated cardboard fairly well, although you may need to run it through the machine 1-2 times and use a pair of regular scissors to clean up any edges depending on the type of cardboard and the die shape you are using.
You wouldn't want to use most of the thinner metal cutting dies that are available with corrugated cardboard – they are simply too intricate and you will lose the detail.
Still, I felt I had to include this in my list of cutting tools because I seriously use my machine nearly every day – whether I'm cutting fabric, paper, cardboard, felt and more. It's an investment and the dies can add up quickly, but it can also save a lot of time and help you get shapes that are cut uniformly – especially if you need squares, hearts, circles or hexagons!
If you don't yet have a Sizzix, I highly recommend the Big Shot Starter Kit – it has everything you could ever need for cutting all types of materials and using it with different kinds of dies! It's an awesome tool for any makerspace!
Compared to the computerized cutting machines, the Sizzix is definitely a lot more efficient because you don't have to first load designs into your software + then tell the machine what and where to cut. While the computerized machines are great for one-time designs, they will still struggle with any kind of intricate shapes and you will get a lot better quick results with the Sizzix Big Shot.
---
Cutting Tools You Should NOT Use for Cutting Cardboard
Now that we've covered my 3 favorite tools for cutting cardboard, I wanted to share different cutting tools that really should not be used for cutting cardboard unless you really have a lot of experience. These methods are not always safe and can cause more grief than they are worth!
Box Cutters: They can easily slide around making it hard to get straight cuts, the blade is very sharp and may even fall out if not secured properly. Cutting through thick pieces usually requires scoring the cardboard first.
Precision Cutters: Brands like X-Acto are great and certainly have a large fanbase, but their tools are too dangerous for me to recommend them for new users. They are very sharp and so require a great deal of skill from the user.
Laser Cutters: You'd think laser cutters would go right through cardboard no problem, but these can actually be a huge fire hazard when dealing with materials like corrugated cardboard because the small little air pockets create conditions where the laser will not cut but actually burn the cardboard and possibly even ignite. If you are a professional who uses laser cutters regularly that is one thing, but for the average maker who simply likes to tinker it's not worth the risk!
---
5 Tips for Cutting Cardboard
Now that we've gone over the best tools to use for cutting cardboard safely, I thought I would share a couple of other tips for cutting cardboard that will make your creating a lot easier and more fun!
1. Break Down Boxes Before Trying to Cut Them
Boxes can be tricky to deal with if you simply need flat pieces of cardboard. Breaking them down so that the sides lay flat first will make it a lot easier to cut the shapes. You can often just tear these without using any tools, though you may want to wear gloves while breaking down a lot of boxes as paper cuts are always possible.
2. Have a Good Work Area
Cutting cardboard is a lot easier when you have a good work area that is well set up for it! Cutting on the floor can sometimes be a challenge (especially as I get older! Ha!) – so what I like to do for the very large pieces is actually use two tables or desks closely spaced together.
I realize this sounds confusing, so I made you a diagram. 🙂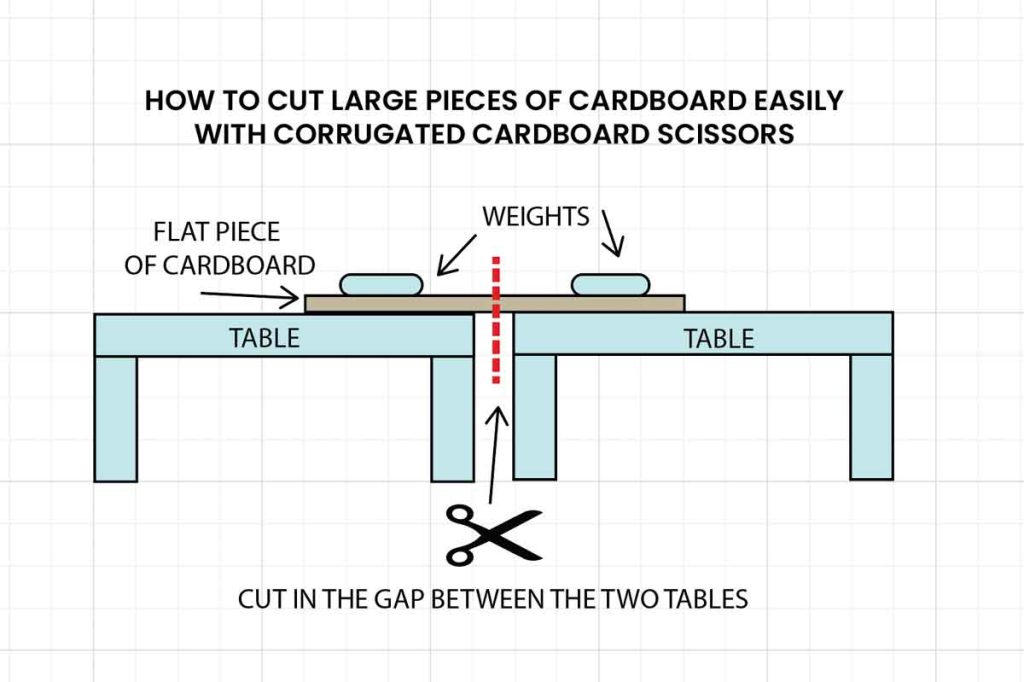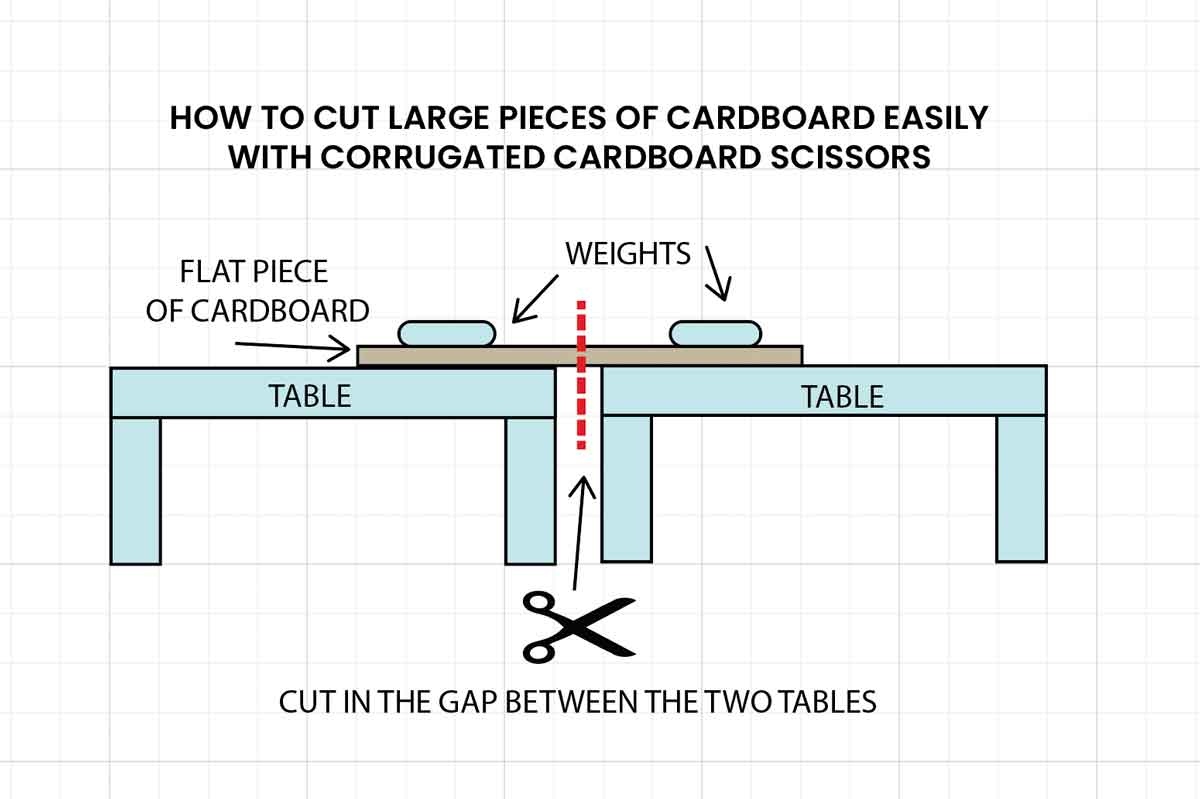 I will lay the flat piece of cardboard down and then use weights such as books or other heavy flat items to hold them in place while I make the cut in the gap between the two tables.
3. Mark Your Cuts!
If you are cutting out shapes like circles, squares, triangles freehand or you need a precise size, always use a ruler and mark your cuts with a marker or pencil before you cut! This will save a lot of time, give you better results and waste less cardboard.
You can also use templates to make life a lot easier – a paper plate works great to trace around for a large circle, or you can print out different shapes on your printer, cut those out and then use a glue stick to temporarily stick them to the cardboard for easy tracing.
4. Fold or Cut the Cardboard in the Best Possible Place
Most corrugated cardboard has natural crease lines or grooves – this is the part that makes it "corrugated" vs. just a flat piece of cardboard. A lot of times you may not even need to cut the cardboard if you can fold it on these lines – perfect for making boxes and other 3D objects.
The other thing to consider when cutting corrugated cardboard is where you are cutting it. If you turn a piece of corrugated cardboard on it's side, you'll see there are definitely some places that are better for cutting than others. Ideally, you will cut it at either a peak or valley and not in between for the best result.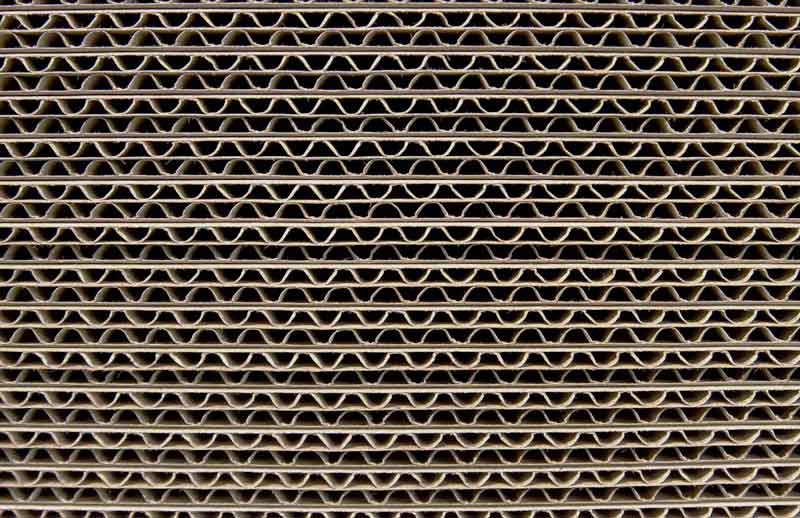 5. Organize Your Cardboard Efficiently
Cardboard has a tendency to get out of control sometimes, so organization is a must. We always break down boxes (unless we are specifically building projects that use boxes as a base!) and then store these flat and upright.
When you are cutting a lot of cardboard, you are likely to get a lot of scrap pieces in different shapes and sizes. These can be super handy to have, as it's easier to cut the smaller pieces than a larger piece and even precision serrated edge scissors can be used for more intricate shapes.
For the smaller pieces, I usually store them in a clear plastic 28 quart bin – this set of two available at Walmart is a great value and they are easy to stack and store and sort through because they are shallower than a traditional tote bin. They measure 23 1/2″ Long x 16 7/8″ Wide x 5 7/8″ High.
When the bins get full, I know I better make something quick or I can still easily recycle them like I would recycle any type of cardboard.
---
We love using cardboard to build things (especially with lumber prices being so hard and out of reach for many people!) – and I hope these tips for cutting cardboard safely and easily will help!
Do you have any tips on how to safely cut cardboard? What methods and tools do you like to use best? We'd love to hear from you in the comments section below!