I am so excited to bring you this free car SVG cutting file that you can use with your Cricut, Silhouette, Laser Cutter or CNC Router.
In addition to the SVG, we've also included a free printable PDF template you can use as a template for tracing as well as a transparent PNG file in case you need it.
We've included multiple SVG files in this download so that you can customize the car however you like for your project. You can choose from a car outline shape with no windows, a car with windows cut out, and a car with the windows and wheels as separate cuts from the outline shape so you can give your project more dimension.
Here is a preview of all of the different SVG files that are included: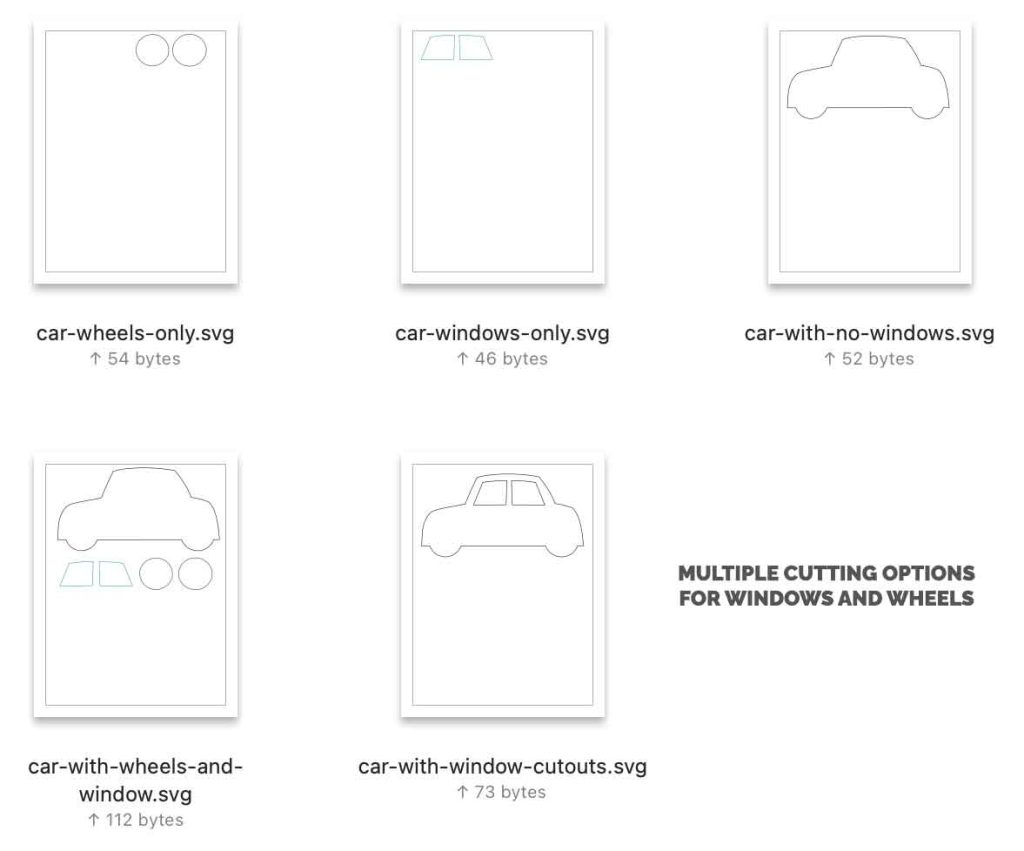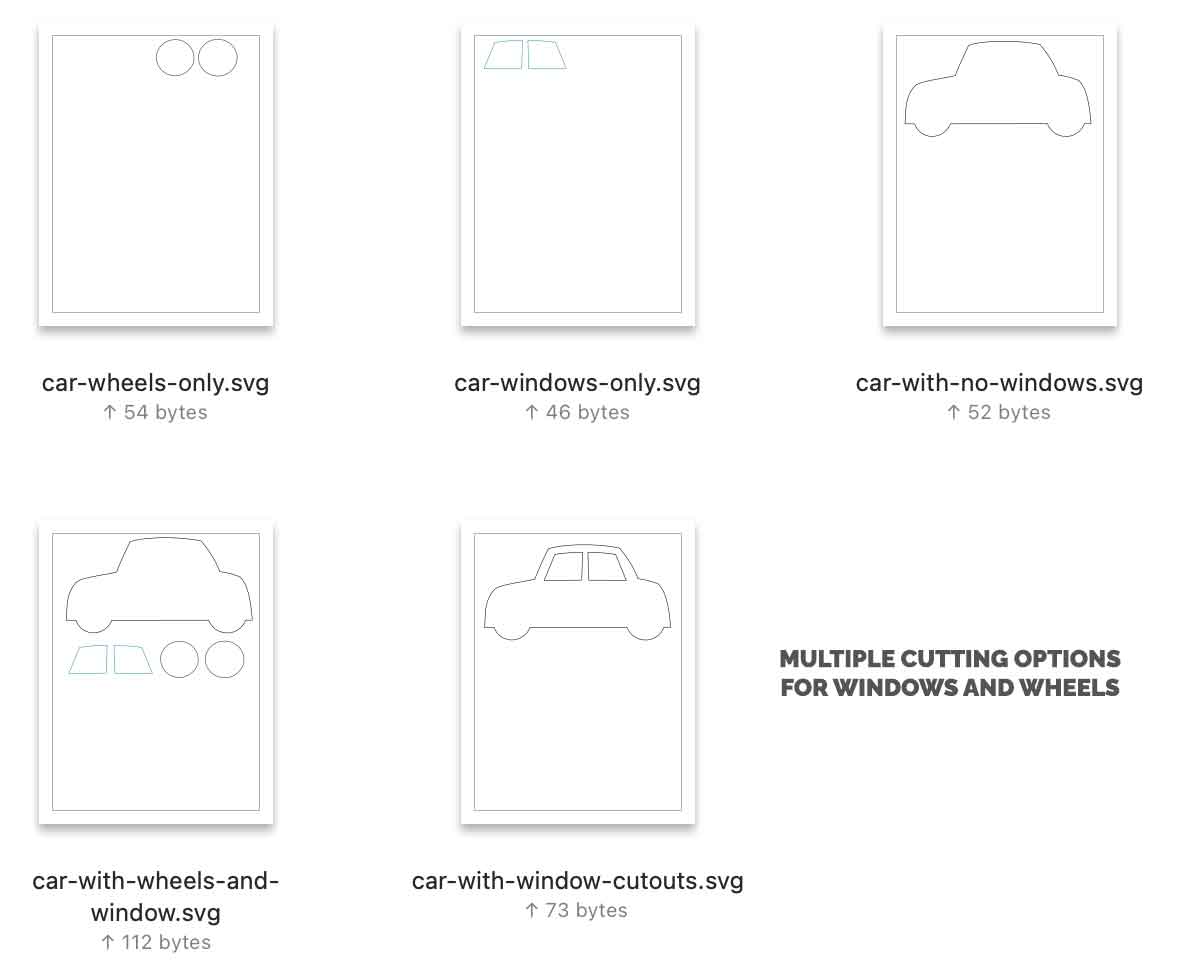 While it might seem confusing at first, we wanted to make sure that you had a lot of options so you could cut these any way you like – especially if you want to use different materials for the windows or the wheels.
The car with no windows SVG file is best if you just want a blank car shape – This is perfect for using as a shape for wooden signs or even making keychains where you would personalize it with a name or logo for example.
The car with the window cutouts file is best if you want a car shape but you want the area where the windows are to be cut out as well. You could leave the car as it is, or use the included windows-only file to cut the windows in a different material to inset into the car.
The car with wheels and windows file includes the outline of the car as well as wheels and windows below the body of the car so that if you wanted you could make your car more dimensional by stacking the wheels in place and the windows on top of the base of the car body.
The wheels only and windows only files can be used with either the car with no windows or the car with window cutouts – we simply put it in its own SVG file so that you could easily cut different materials.
How to Keep Your Wheels + Windows a Consistent Size
We designed all of these SVG files to include an artboard that is 5.5 inches wide. When you import the SVG designs into your software for your machine, you will want to make sure that whatever width you use for the car is the same width that you use for the windows and the wheels!
So, if you keep the 5.5 inch size, you would just make sure that the windows SVG is also 5.5 inches wide, and the wheels SVG is also 5.5 inches wide.
Of course, you can make these any size you like – whether you want a 2 inch car for keychains or a 24 inch wide car for a large sign in your garage – just make sure you use the same width for each different SVG file.
Learn more about resizing SVG files here.
---
Download the Free SVG Car File
To download the .zip file which contains the free SVG files as well as a printable PDF template you can use for tracing and a PNG image.
And – yes! You can use this free car shape for commercial use, personal use, educational use – it truly is 100% Free. We believe that our makers should not be limited by things like licenses so that they can create freely!
If you like this free car SVG, be sure to check out the other free cutting files we have available in our library. Some of the other designs you might be interested in:
---
What will you make with this free car SVG cutting file? I could see this being used in so many ways, whether for signs, keychains, t-shirts, crafts, and more! I'd love to hear about your projects and the materials you like to use in the comments below!