You put all the work into making beautiful products – now it's time to start marketing your woodworking business! These 59 woodworking business marketing ideas are sure to help you attract new customers!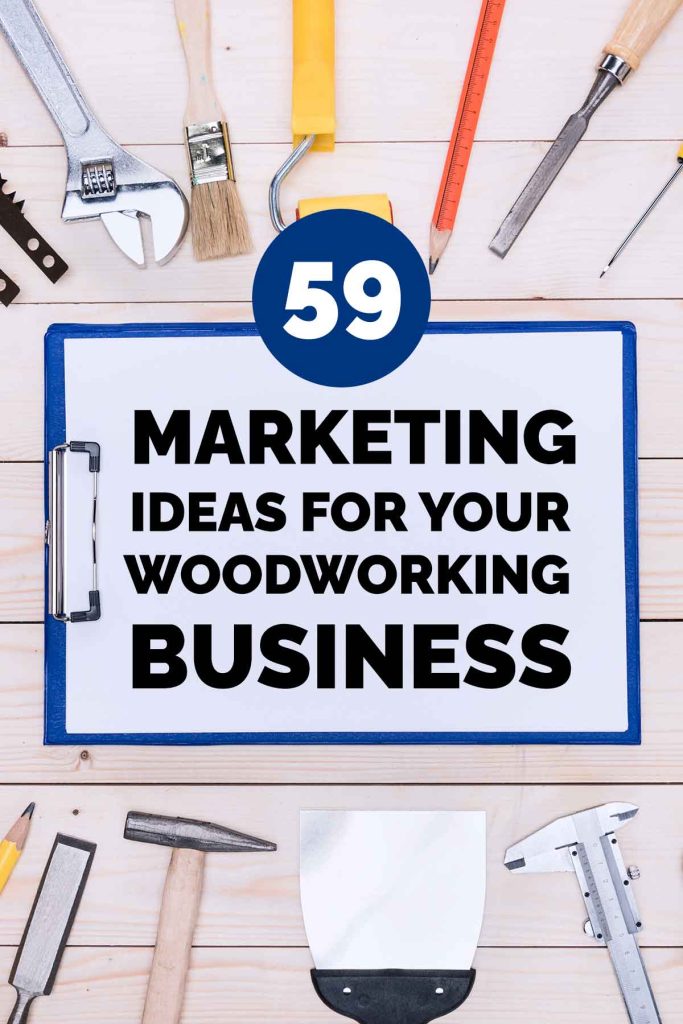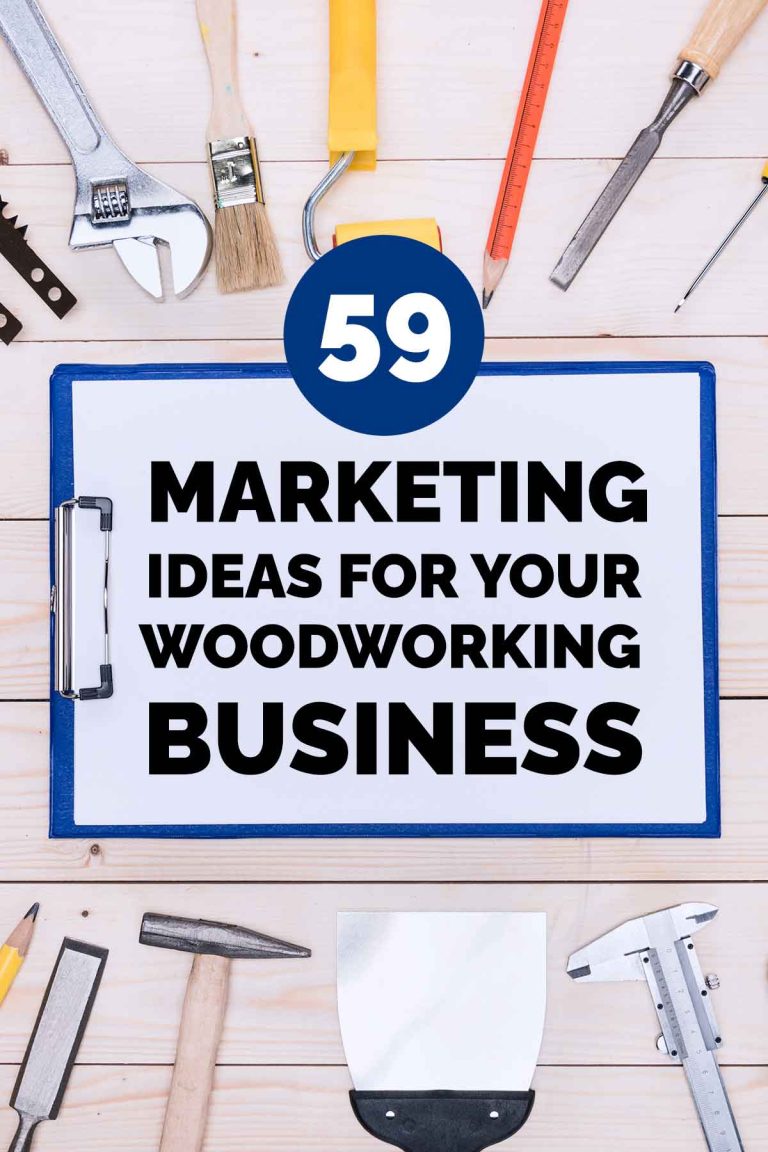 1. Create a Website + Start Blogging
A website is one of the most valuable tools you can have for marketing your handmade business. Your website should include your contact details and product information, but the most powerful thing you can do on your website is to regularly blog.
2. Start an Email Newsletter
An email newsletter is one of the easiest ways to stay in touch with past, present and future customers. You can put a newsletter sign-up box on your website or you can offer an incentive for people to join your newsletter at craft shows and more.
3. Make Videos + Post to YouTube
People love to watch videos and establishing a YouTube presence is a great way to attract new customers.
4. Create a Facebook Page and Group
Facebook pages and groups are a good way to stay in touch with your customers on Facebook. Pages are good for updates, whereas if you start a group you can interact directly with your potential customers to answer their questions and inspire them with ideas! You can also use the Facebook page and group to drive traffic to your website and newsletter.
5. Post Your Projects on Instagram
Everybody loves scrolling through Instagram photos and it's a great way to brand yourself and attract new followers to your shop.
6. Pin Your Products to Pinterest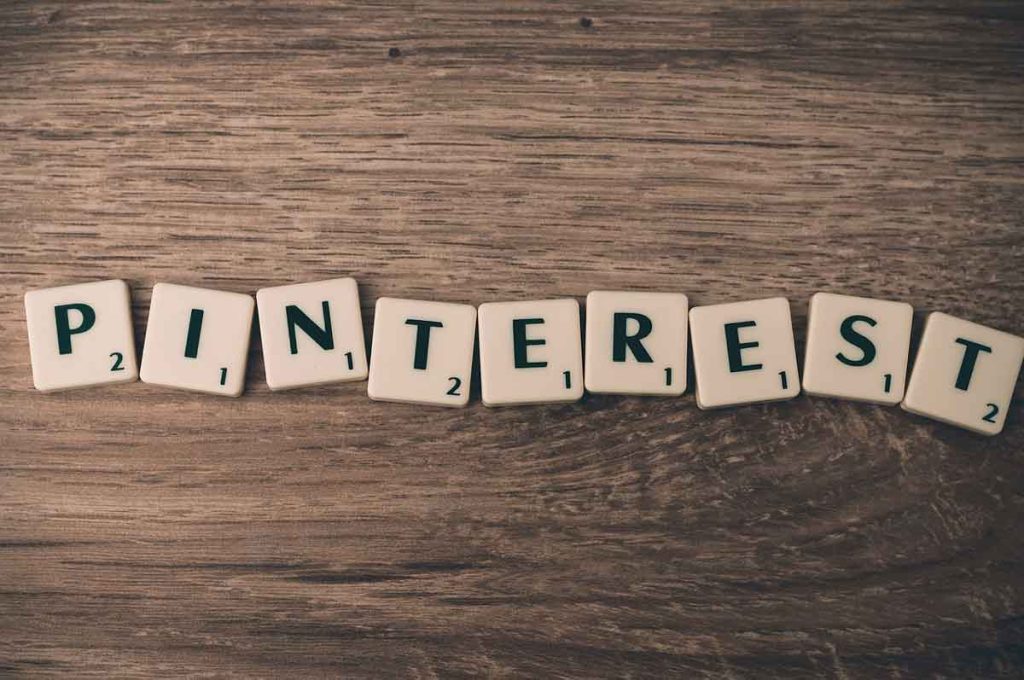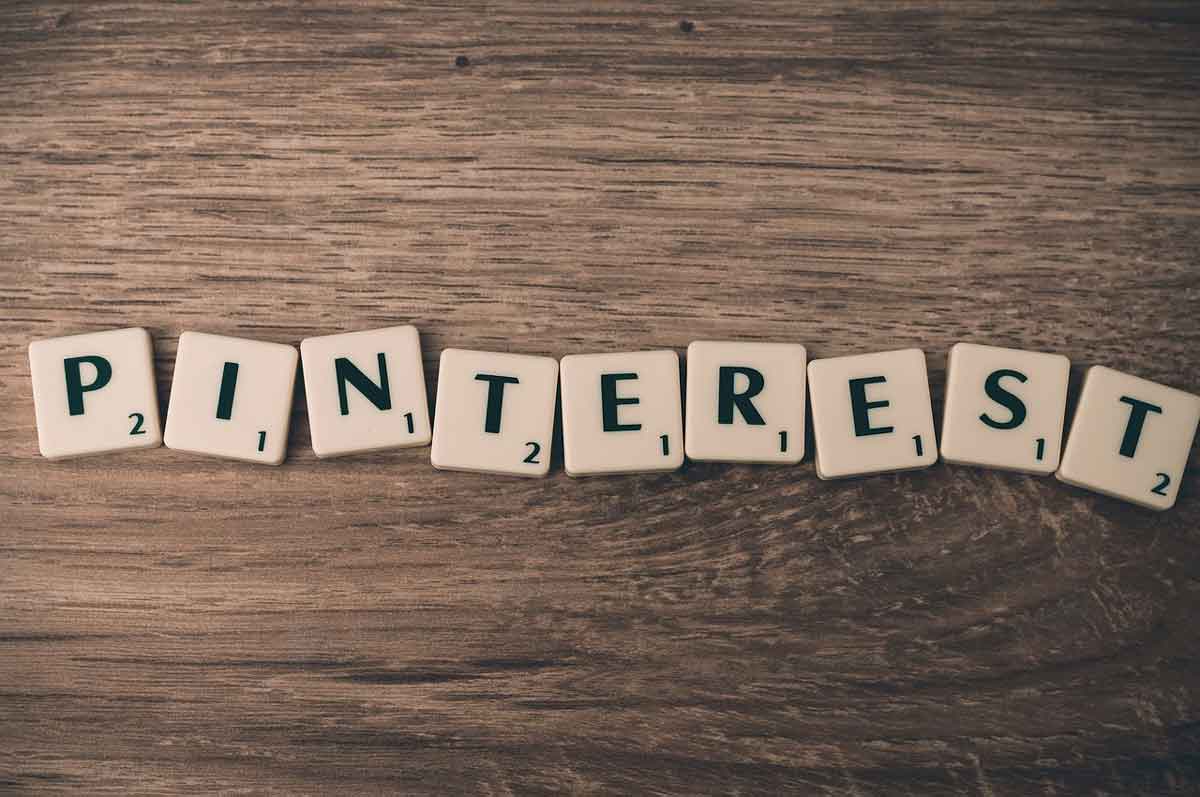 Millions of people go to Pinterest to find products and no doubt you can definitely get some traffic to your blog and your online shop through Pinterest. You can even advertise on Pinterest for increased exposure.
7. Create a Google Business Page
A Google business page will help you establish credibility with your audience – and your customers can leave reviews!
8. Create a Yelp Business Profile
Yelp isn't just for restaurants and hotels – many small business owners use it as a way to connect with their local target market. Like a Google business page, it can help you attract new customers when they search online.
9. Create a LinkedIn Profile
LinkedIn is a great way to connect with other business owners and influencers who could become advocates for your brand and to meet people to network with. As a bonus, you'll also likely learn all kinds of marketing ideas and tips!
10. Add Your Business Information to Your Email Signature
If you're anything like me, you probably send dozens of emails out each day. Let people know what you do by creating an email signature for your business. You never know – that email to your child's teacher could result in a future sale!
11. Partner With Bloggers
There are thousands of bloggers you can partner with for all kinds of exposure for your brand. Whether you do sponsored posts, partner together for a giveaway, or even offer to guest post on their blog, there are tons of opportunities to get yourself in front of new people all the time.
12. Go to Local Business Networking Events
There are many business associations locally where you can network with other business owners. This can help you meet people for future partnerships – and they themselves might be interested in buying or selling your products!
13. Attend Conferences and Trade Shows
There are tons of trade shows for the woodworking and building industry, as well as many trade shows for handmade business owners and crafters. You can choose to set up a booth, or you can simply get a pass to walk around for the day and network with the different vendors.
14. Teach a Free Workshop At Your Local Library
Local libraries today do a whole lot more than loan books! They are always looking for local people from the community to share their knowledge and skills with others and so it's very easy to set up a free workshop where you can meet new potential customers.
Depending on what kind of woodworking projects you make, you could do a class on woodworking safety or even teach others to make a simple woodworking craft that can be done in under an hour.
15. Consider Selling Items on Consignment
There are a lot of small independent shops that love featuring products from local artisans and crafters. Visit these shops, show them your products and inquire about selling on consignment.
Yes, the business owner will get a small cut of sales but you will get a lot more exposure for your products and those customers could become loyal raving fans!
16. Donate Products to Charities and Businesses
It's easy to trade your products for exposure and help other businesses and charities you are passionate about at the same time.
For example, maybe you make outdoor furniture and you love your local parks. You could donate park benches or even outdoor chairs and tables to the community in exchange for a sign that has your business information on it.
17. Enter Art Shows
Almost anything you make with wood could be considered a work of art and art shows are a wonderful way to get your work on display and to be discovered by others. Many art shows are judged and you may even be able to win prize money and additional recognition this way.
18. Partner with Other Local Woodworkers and Vendors
Partnering with other local woodworkers and vendors can be a very powerful way to market your woodworking business. For example, you could do a giveaway together, or you could trade services to offer something unique for your customers.
This is also a great strategy to use for craft shows that have a high entry fee. The two of you could partner together to create a booth and each of you could take turns watching the booth to give each other breaks throughout the day.
19. Host an Open House
This is a great way to let people know about the different products you make and it's very cost-effective as well!
To do this, simply invite local customers and potential clients to come by your shop or a meeting location on a certain date and let them try out your products and learn all about them. Don't forget to serve some light refreshments and have plenty of business cards available!
29. Reach Out to Schools
Schools are always looking for fundraising ideas and this can be a wonderful way to get a lot of orders quickly where you offer to donate a percentage of the profits to their sports team or PTA.
One thing to consider with this idea however is that you might get a LOT of orders all at once, so you'll want to stick with something you already have a large stock of or can turn around and make quickly. You could also opt to go with smaller private schools that may only have 100 or so students across all the grades.
30. Host a Facebook Live or YouTube Live Stream
While we already covered posting videos on YouTube and creating Facebook pages and groups, live streams are a whole different ball game!
With live streaming, you are live and can interact with your customers and followers in real-time while your video is rolling. This is a great way to really connect with your audience and form lasting relationships that can generate sales for years to come.
31. Ask Customers for Testimonials and Reviews
When people buy stuff online they will ALWAYS read the reviews. If you have happy customers, ask them to leave reviews – this will help boost the buying confidence of new customers.
Getting people to leave reviews can sometimes be hard, but one way to make it easy is to offer an incentive. For example, you could send them a 10% off coupon if they leave a review or offer a bonus digital product.
You can also promote customer testimonials on your Facebook page as well as create a section for testimonials on the homepage of your website.
32. Create a Podcast
Podcasts are audio recordings that are a lot like having your very own radio show. You could have people call in and ask their questions or you can partner with another woodworker and talk about the things that interest your target market.
As a bonus, you can turn your podcast into a video very easily and have instant content for your YouTube channel!
33. Add an Events Section to Your Website
Events are a great way to get in front of new customers and what better way to meet them in person than to let them know about local events you will be attending?
You can add an events calendar to your website very easily with different WordPress plugins. My Dad, who does Colonial Woodworking always has people telling him they visit his website just to know when the dates are for all the best fall festivals!
34. Customer Referrals
We talked about offering an incentive for customers to leave reviews – why not also offer an incentive for them to refer new customers? You could give them a gift voucher for products in your shop for every new customer they refer or give them coupon cards they can share with family and friends.
35. Consider Affiliate Programs
Affiliate marketing is another great way to get your products in front of more people. When you offer an affiliate program, you pay your affiliates a percentage or bounty fee for every sale they refer through their website.
You can set up an affiliate program relatively easily with most online e-commerce platforms and you can focus on making new products while your affiliates do all the marketing for you!
36. Network With Other Businesses for Cross Promotion
Another great woodworking business marketing idea is to network with other businesses to do a cross-promotion.
For example, let's say you make and sell wooden bath products – bathtub trays, soap dishes, etc. – you could easily partner with another small business that makes their own handmade soap products and both of you can sell the two items together as a bundled product. It's a win-win for you both!
37. Put Your Business Card to Work!
You might already have a business card, but are you putting it to work? My husband ran a very successful business card campaign for years – his business card was essentially a 10% off coupon. He always gave a few business cards to his customers to share with family and friends and even today he still gets calls from business cards he had over 7 years ago!
38. Create a Flyer or Brochure
Many public places have bulletin boards and believe it or not, yes, people really do read those things! Laundromats, supermarkets, libraries, schools, your local township office are all great places to see if you can hang a flyer or brochure for your products.
39. Make Stickers!
Everybody loves stickers and they are a great promotional item to include with purchases as well hand out when you are at craft fairs, festivals and vendor shows. They are relatively inexpensive to make – you can even likely make them yourself if you're already using a laser cutter or cutting machine with your woodworking business!
40. Make T-Shirts!
When you are at a festival or craft show, you should definitely wear a t-shirt that promotes your business! You could also make t-shirts for your family and friends to wear when they go out.
41. Write for a Local Newspaper or Magazine
Nearly every town and city have a local newspaper and magazines and they are always looking for feature articles. Many times you can submit an article to these local publications in exchange for an advertisement.
42. Create QR Codes
QR Codes are those black and white boxes you see on nearly everything these days and scan with your phone. Creating one is super easy and when people scan it on their phones you could take them to your shop or website or even a special offer page.
43. Run a Contest or Giveaway
People LOVE contests and giveaways and it's a great way to attract all kinds of new people to your business. You could use an online platform like Rafflecopter.com or even make it completely offline!
44. Offer Coupons + Bundle Deals
Everybody loves a deal and coupons are one of the best ways to make sales fast. You can promote your coupons in your email newsletter or in your Facebook group.
Another idea for marketing your business is to offer bundle deals. For example, if you sell 2-3 related products, you can sell them individually and also sell them as a bundled deal as a set. I know one person who makes lovely wooden handmade weaving looms who does this for multiple sizes and shapes!
45. Create a Gift Guide
When the giving season begins, people are often stumped for ideas for what to give to their family and friends. You can create a gift guide that features your products and you could even break it down into different sections, like gift ideas for moms, gift ideas for Dads, gift ideas for kids, gift ideas for grandparents, etc.
46. Hold a Pop-Up Shop
A pop-up shop is where you pop-up somewhere to sell items. You can partner with a local business where you set up in their parking lot or you can even apply for a vendor permit with your local city to sell out of your truck or car. These are great events to attract your current customers and the event will surely attract new ones with people just walking by!
47. Attend Craft Shows
No doubt selling your stuff at craft shows and festivals is one of the best ways to make some money – but it's also a great way just to network with new potential customers! Even if they don't buy anything from you during the show, you can use it as a great opportunity to get them to follow your Facebook page or sign up for your email newsletter so you can stay in touch with them!
48. Enter Your Business to Win Industry Awards
There are all kinds of awards every year for small businesses, and yes – they apply to small woodworking businesses too!
49. Submit Your Projects to Trade Magazines
There are hundreds of woodworking magazines that are always looking for submissions – and not only will they likely showcase your projects with your website information – they often pay you for your submissions as well!
50. Get Creative With Packaging
I'll never forget the company who sent me a package of M&M candy with my order along with a handwritten note – and I still order from them to this day because of their attention to detail!
You can include all kinds of things with your packaging – whether it's a promotional sticker or even just a handwritten note along with business cards or a coupon. You'll also want to make sure your package is well branded with your company logo and contact information. You can order customized packing boxes from many places such as Uline and more.
51. Go to Meetups
Meetups are a great way to meet new people – even if the meetup group isn't related to woodworking at all! For example, I regularly go to WordPress meetup groups where we talk about all things related to blogging and building websites. I've met some fantastic artists this way!
52. Volunteer for Charity
Charitable work is another great way to promote your business. For example, you could volunteer your time and skills and be listed as a sponsor on their organization's website – not to mention you are sure to meet some wonderful people in the process!
53. Submit Your Business to Directories
There are thousands of directories out there where you can submit your business or even advertise on them. Many directories are specifically for handmade businesses! Some you can submit your business to for free and others charge a fee. Either way, it's a great way to get listed and get some traffic to your shop or website!
54. Optimize for SEO
SEO stands for search engine optimization – which means making your website and your online products more visible in search engines when people search for your products on sites like Google, Bing, and Yahoo.
If you are an Etsy seller, you'll also want to make sure you optimize your Etsy listings for SEO by writing detailed product descriptions and choosing keywords people are searching for.
55. Sign Up for HARO
HARO stands for "Help a Reporter Out" and on their website you will find thousands of journalists looking for experts to quote and use as sources in their articles. You can sign up for HARO for free and simply respond anytime a journalist is looking for someone with woodworking expertise!
56. Advertise in Local Church Bulletins and Sports Programs
From high school football game programs to Sunday church bulletins, there are tons of opportunities to not only get affordable advertising for your business but also help support these organizations at the same time. JS Paluch is an example of one company you can get ads placed in dozens of churches local to your area for an affordable rate.
57. Brand Your Vehicle
It is so easy to brand your vehicle to constantly market your business for you – even when you're stuck sitting in traffic! You can get vinyl decals with your business logo and website or you can order a magnetic sign for the side of your truck. (Just make sure if you get a magnetic sign that your car is actually magnetic! Many newer vehicles are not!)
You can also put a bumper sticker on your car – and even ask friends and family members to do the same! One thing to consider though is you'll want to be a good driver when your vehicle is branded – you definitely don't want to be cutting people off, texting while driving, or throwing litter out the window as those things could harm your brand's reputation.
58. Plan for the Holidays
Anyone who has a handmade business can tell you that holiday seasons are hot, hot, hot for sales! Doing some planning ahead can help you reach your sales goals by offering special seasonal products or discounts for holiday sales.
59. Advertise Online
There are tons of ways to advertise online, whether you do CPC search advertising, social media advertising or even reach out directly to brands you want to advertise with and pay their advertising rates for banners or sponsored posts.
While advertising online can be more expensive than other promotional methods, it can also be highly effective! For best results, make sure you laser focus on who your target market is and how you can best reach them.
—
I hope this post of 59 Woodworking marketing ideas inspires you for ways to promote your small business and help you get more customers and sales! Do you have any other ideas for ways to market a woodworking business? I'd love to hear what has worked for you in the comments section below!