When it comes to starting a woodworking business, there are a lot of things you need to do! Use this free printable woodworking business start-up checklist to get your business off to a great start!
You can download the free PDF printable of this business startup checklist at the bottom of this page!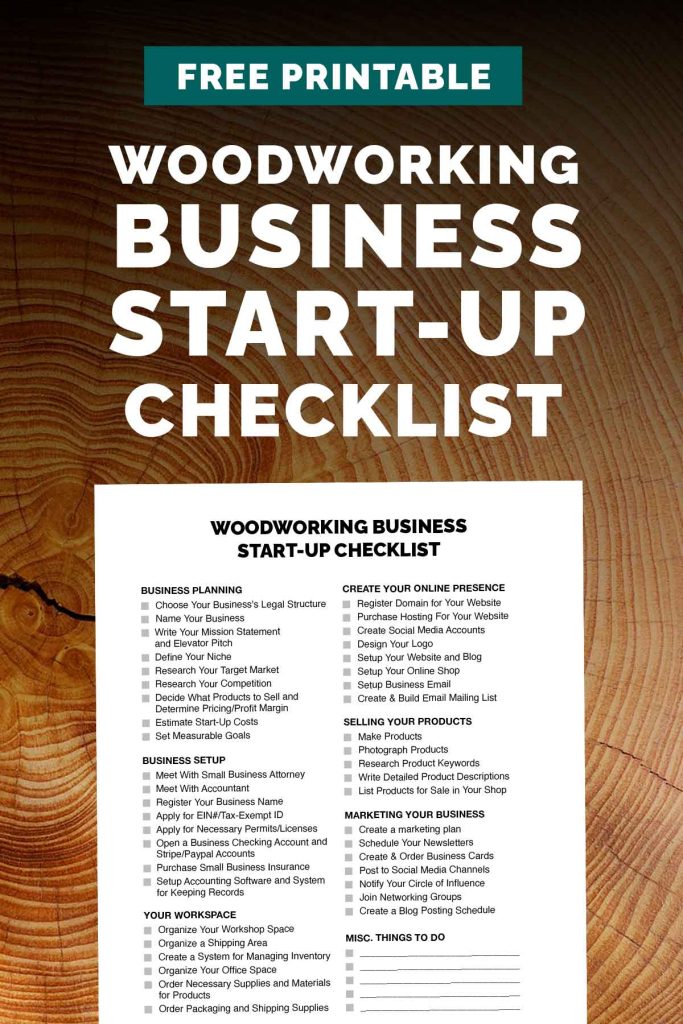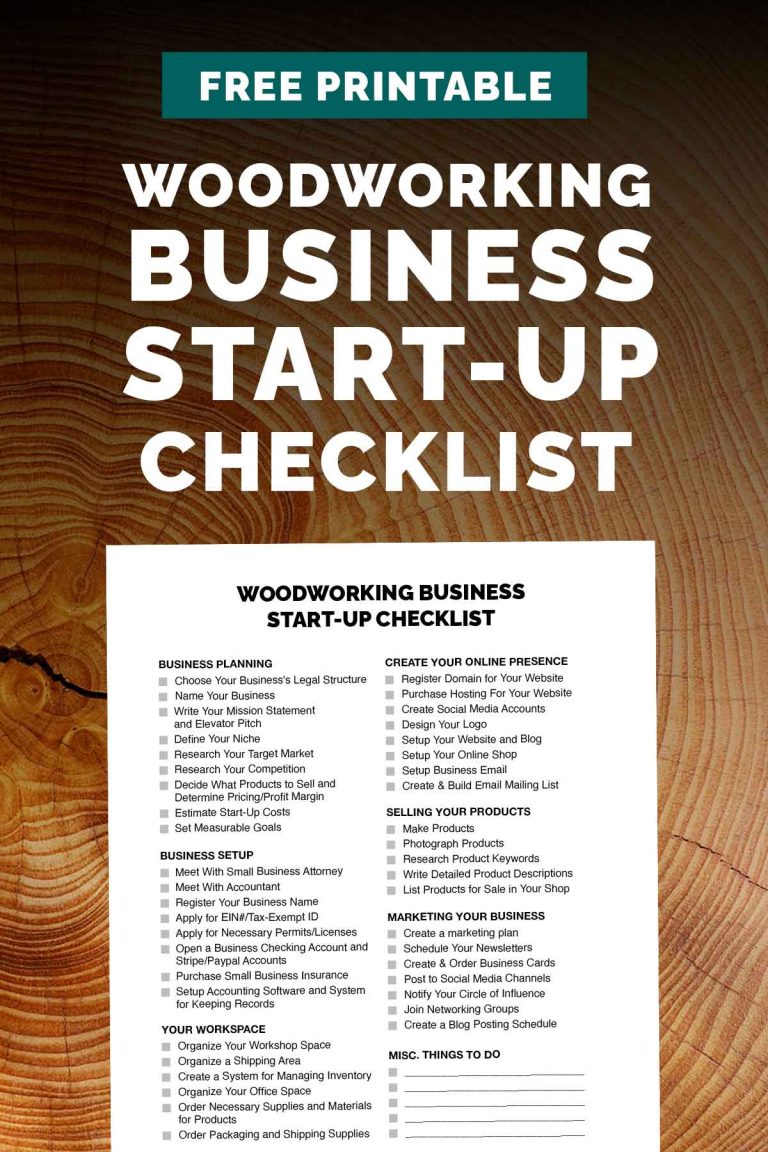 Steps to Starting Your Woodworking Business
Below is the list of everything you need to do when starting your woodworking business.
Step 1: Create a Business Plan
Choose Your Business's Legal Structure (Individual Proprietor, Partnership, LLC, etc.)
Name Your Business
Write Your Mission Statement
Write Your Elevator Pitch
Define Your Niche
Research Your Target Market
Research Your Competition
Decide What Products to Sell
Determine What Price to Set For Your Products
Estimate Start-Up Costs
Set Measurable Goals
Step 2: Setup Your Business
Meet With Small Business Attorney and Accountant
Register Your Business Name
Apply for EIN#/Tax-Exempt ID
Apply for Necessary Permits/Licenses
Open a Business Checking Account
Create a Stripe/Paypal Account
Choose Your Online Shop Platform
Purchase Small Business Insurance
Setup Accounting Software and System for Keeping Records
Step 3: Setting Up Your Workspace
Organize Your Workshop Space
Organize a Shipping Area
Create a System for Managing Inventory
Organize Your Office Space
Order Necessary Supplies and Materials for Products
Order Packaging and Shipping Supplies
Step 4: Create Your Online Web Presence
Register Domain for Your Business Website
Purchase Hosting For Your Website
Create Social Media Accounts – Facebook, Pinterest, Instagram, YouTube, etc.
Design Your Logo or Hire a Graphic Designer
Setup Your Website and Blog or Hire a Web Developer
Setup Your Online Shop
Setup Business Email
Create & Build Email Mailing List
Step 5: Selling Your Products
Make Products
Photograph Products
Research Product Keywords
Write Detailed Product Descriptions
List Products for Sale in Your Shop
Step 6: Marketing Your Business
Create a marketing plan
Schedule Your Newsletters
Create & Order Business Cards
Post to Social Media Channels
Notify Your Circle of Influence
Join Networking Groups
Create a Blog Posting Schedule
While it may seem overwhelming to start a woodworking business, this checklist will help make sure you stay focused and on-task!
---
Download the Free Printable Checklist!
Here is a preview of what the printable woodworking business checklist looks like. You can see I also added a space for you to add your own to-do list items.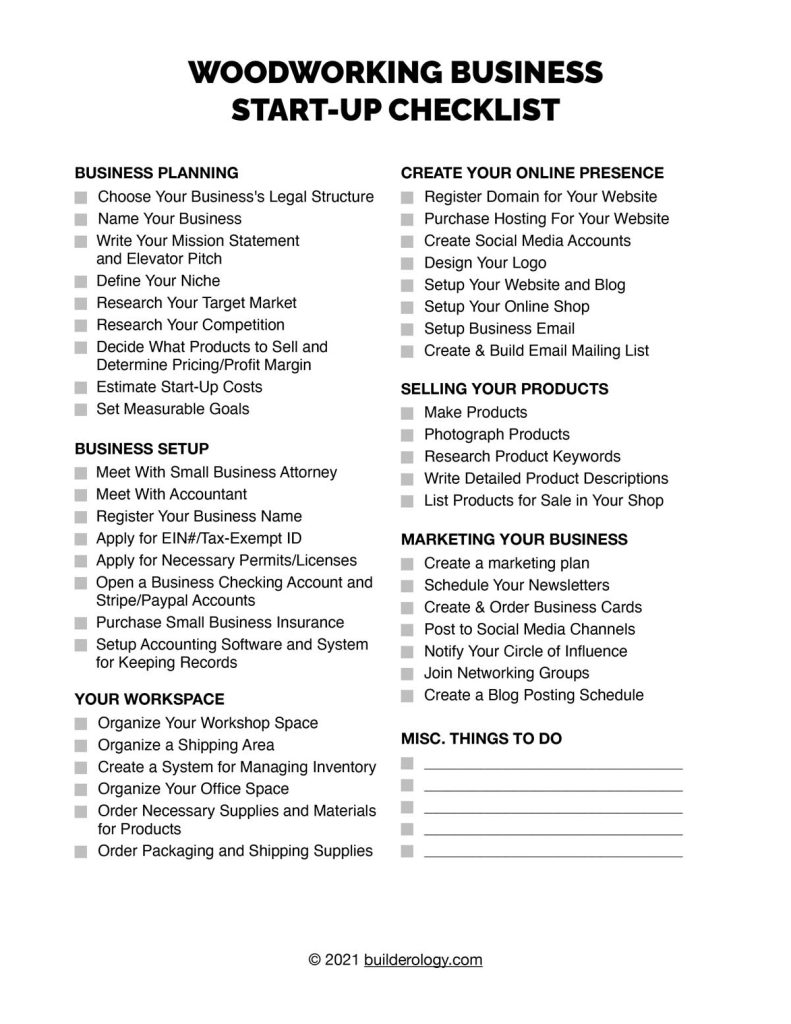 There is no sign-up necessary to download the free checklist – just click on the download link below to download the file!
Click Here to Download the Free Printable Woodworking Business Checklist PDF
---
Looking for more great resources for starting your woodworking business? Check out these other posts on our website:
I hope this business start-up checklist is helpful for you in starting your woodworking business – Tell me about your woodworking business plan in the comments section below!